St. Peters Church, Belgrave (Leicester)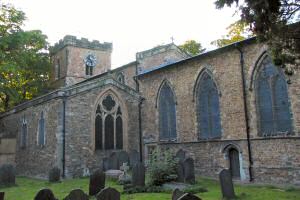 St. Peters was the parish church of the old village of Belgrave, which is now a Northern suburb of the extensive city of Leicester.
It stands in Church Road, a quiet cul-de-sac off Thurcaston Road, which itself is off Loughborough Road, one of the major roads leading Northwards out of Leicester towards Loughborough and Derby. Loughborough road is the A6030.
St. Peters dates back to the 13th century, and is on the site of a much earlier church.
There is a very well-preserved Norman South door surround, which is hidden from general view by the South porch.
The former Anglo-Saxon church stood where the South aisle is now, and among the interesting features are an ancient font and a green man.
The churchyard has a fine collection of slate headstones.
St. Peters was part of the Parish of the Resurrection, which also included the Edwardian St. Albans and the 1962 St. Gabriels, as well as St. Matthews House, converted from a public house. Only St. Albans, now known as the Church of the Resurrection, remains.
Near the church are two 18th century mansions, Belgrave Hall, a famous haunted house which is now a museum, and Belgrave House, the Talbot Inn and the Georgian Cross corners, now an Arts Centre.
St. Peters is no longer open for worship.