Belvoir Street (Leicester)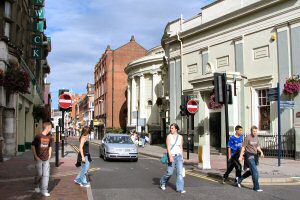 Belvoir Street is one of the major streets in Leicester City Centre, running from Granby Street to Welford Place.
The name (Belvoir is pronounced "Beaver") refers to Belvoir Castle, the Leicestershire seat of the Dukes of Rutland. Nearby Rutland Street also refers to the same family, and so does Granby Street – Marquis of Granby is the title traditionally held by the Duke's eldest son.
On the corner of Wellington Street is the Lending Library. This elegant building, designed by the Leicester architect William Flint, was formerly a concert hall, where in the mid 19th century such people as Nicolo Paganini and Franz Liszt performed.
The entrance hall of the library was once a cinema, so when visiting the library one walks through a cinema into a concert hall.
Beside the library entrance is a semi-circular frontage. This is known locally as the Pork Pie Chapel, and was in fact built as a Baptist chapel by Joseph Aloysius Hansom, who invented the Hansom cab while living at Hinckley. Today this is part of the Adult Education Centre, whose entrance is in Wellington Street.
On the corner of Market Street is Fenwicks department store, in a quite spectacular building.
At the end of the street, in Welford Place, are the Phoenix Building, designed by William Flint, which was the home of Samuel Stone, creator of Stone's Justices Manual; New Walk Centre, the offices of Leicester City Council; and the John Biggs Statue.