Pork Pie Chapel (Leicester)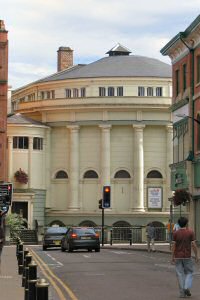 The building popularly known as the Pork Pie Chapel can be found in Belvoir Street in Leicester City Centre.
It was built as a Baptist chapel by Joseph Aloysius Hansom, famous for the invention of the Hansom Cab while living in Hinckley. Hansom was also the architect of the New Walk Museum, as well as Birmingham Town Hall and Lutterworth Town Hall.
The Baptists were particularly strong in Leicester. Thomas Cook was a Baptist, and his first ever excursion was from Leicester to Loughborough, where a Temperance event had already been arranged.
The Pork Pie Chapel is now part of the Adult Education Centre, whose entrance is around the corner in Wellington Street.
Where is Pork Pie Chapel?
View a map showing the location of Pork Pie Chapel.
Press the 'Back' button on your web browser to return here.