Butter Cross (Mountsorrel)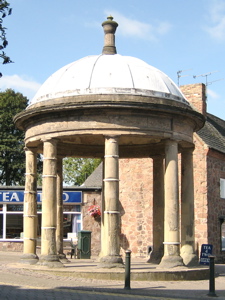 The Butter Cross is probably the most easily recognised feature of the Leicestershire village of Mountsorrel.
Mountsorrel was for centuries a market town, the charter being granted in 1292. The Market Place is still visible, along the old main road between Leicester and Loughborough.
There was an old cross in the Market Place, but this was moved by Sir John Danvers in 1793 to the grounds of his home at Swithland Hall. He was Lord of the Manor of both villages.
However, Sir John had a replacement built. This one is much more practical, consisting of several pillars topped by a dome, making it useful for standing under in the rain. It has the same function as the more ornate stone structures at Chichester, Salisbury and Malmesbury, and the wooden one at Oakham.
Then in the early 21st century, a replica of the original was created, and this stands across the road from the Butter Cross.
So Mountsorrel now has probably the best of both worlds.