Stonehurst Farm (Mountsorrel)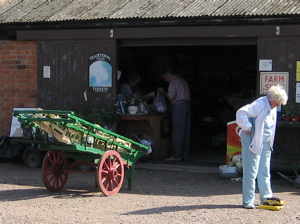 Stonehurst Farm is a working farm and popular tourist attraction in the fascinating village of Mountsorrel, between Leicester and Loughborough.
It is situated on the old A6 in the North End of the village, on the Western side of the road.
Owned and managed by the husband and wife team of Greg and Marilyn Duffin, with help from the rest of the family, Stonehurst Farm is particularly popular with parents of young children, who are encouraged to get to know the friendly farm animals.
Many birthday parties take place here, and there are lots of visits by schools and playgroups from a good few miles around.
But of course it's not necessary to be a child to enjoy the Stonehurst Farm experience. People of all ages come, not only for the animals, but also for the motor museum and farm shop, where the farm's own produce is sold.
Stonehurst Farm has also always been popular with cyclists, who are always made welcome.
At certain times, the farm runs trips along the surrounding lanes on a trailer pulled by a tractor.
There is an excellent coffee shop and restaurant. Home made cakes and soups are particularly recommended.
The farm has its place in history, as John Wesley himself once preached in the house.
The meeting point for Colin Crosby's Guided Walks in Mountsorrel is outside the coffee shop.