Town Hall (Birmingham)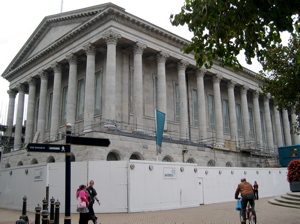 The Town Hall is a very impressive building in Birmingham City Centre.
The design was the result of a competition held in 1830, which was won by the young Joseph Aloysius Hansom and his asociate E. Welch. Hansom is best known for the hansom cab, which he invented while living at Hinckley.
The work was started in 1832, but the builders went bankrupt in 1834, dragging Hansom and Welch with them, as they had stood surety.
The Town Hall was completed a few years later. It is a masterpiece, the design being based on a Greek temple.