Birmingham Cathedral (Anglican) (Birmingham)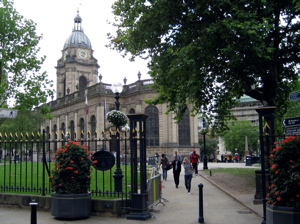 The Cathedral of St. Philip is a fine baroque building in Birmingham, which became the city's Anglican cathedral in 1905.
It was built between 1711 and 1719 by the excellent architect Thomas Archer, who had been a pupil of Vanbrugh.
There is much about St. Philip's that is reminiscent of Christopher Wren's masterpiece, St. Pauls Cathedral in London.
It is a rectangular church with galleried aisles. The Western tower is surmounted by a dome.
The glory of this cathedral is its series of windows designed by Edward Burne-Jones, a local man who had been baptised at St. Philip's. There are three at the East end and one at the West.