Iron Man Statue (Birmingham)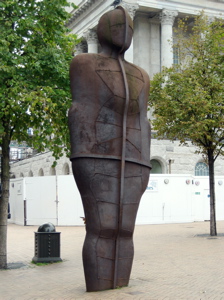 The Iron Man Statue is one of a number of pieces of statuary around Victoria Square in Birmingham.
It represents the importance of iron in the development of Birmingham as a major city during the Industrial Revolution.
The statue was created by the important sculptor Antony Gormley, whose other works include the Angel of the North at Gateshead and the diver beneath Winchester Cathedral.
Nearby are the Floozie in the Jacuzzi, the Town Hall and the Council House.