Queen Victoria Statue (Birmingham)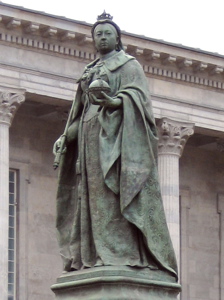 The Queen Victoria Statue has an important place in the city centre of Birmingham.
It is situated in Victoria Square, outside the impressive Town Hall.
Nearby are the Council House, Antony Gormley's Iron Man Statue and the much-loved fountain popularly known as the Floozie in the Jacuzzi.
The Queen Victoria Statue was erected towards the end of the queen's long reign. At 64 years, from 1837 to 1901, it was the longest reign of any monarch in British history.