Bull Ring (Birmingham)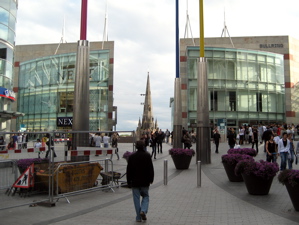 The Bull Ring is an important location in the City Centre of Birmingham, the second largest city in England.
This area is where the market was held for centuries, dating back to when Birmingham was little more than a village. Cattle markets were also held here, and the old parish church is nearby.
In the 20th century, the whole area was transformed, to create a vibrant shopping and entertainment quarter.
Then early in the 21st century, another transformation led to the iconic buildings to be seen and enjoyed today, including one of the biggest and best indoor shopping centres in the land. In particular, the Selfridges building is outstanding.
Nearby, and connected to the Bull Ring via another centre, the Pallasades, is New Street Station, one of the major transport hubs of England.