Council House (Birmingham)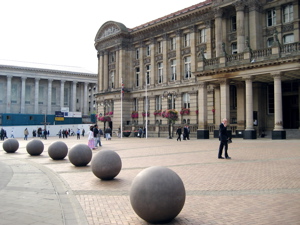 The Council House is one of a fine collection of civic buildings in the centre of Birmingham.
It is situated in Colmore Row, beside Victoria Square, and close to the Town Hall.
The architect was Yeovil Thomason, and it was built between 1874 and 1879.
The centre of the main facade has many interesting features, including on the central arch Britannia rewarding the Birmingham manufacturers.
The building has a dome, and among the many rooms is a small council room.
Inside, there are statues of Queen Victoria and Prince Albert.