Jain Centre (Leicester)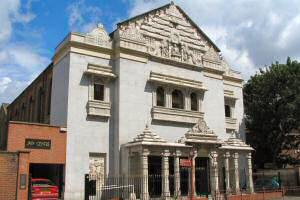 The Jain Centre is in Oxford Street, near the corner of York Street, on the Northbound section of Leicester's inner ring road.
It is the only religious meeting place in Western Europe for the Jain religion. This is a very ancient religion from India, and has a history dating back five thousand years. To put that into context, Christianity has been in existence for two thousand years.
Jains have a respect for all life, including animals and even insects.
The centre is in a converted Congregational chapel, and has magnificent carvings both inside and out.
It is open for visits at special times.
Where is Jain Centre?
View a map showing the location of Jain Centre.
Press the 'Back' button on your web browser to return here.