All Saints Church (Leicester)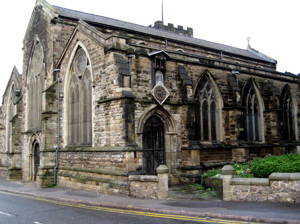 All Saints is one of five ancient churches in Leicester's historic Old Town.
It is situated in High Cross Street, cut off from the City Centre by Vaughan Way, the city's inner ring road. High Cross Street at this point is the A50.
All Saints is a Norman church, dating from the 13th century, and has a fine Norman door surround, with zigzag decoration, beside the road.
It is a few paces from the site of Leicester's North Gate, and the street was Leicester's original High Street, so the situation, though not especially impressive today, was originally an important one.
In the South aisle there are 14th century sedilia and also a tomb recess.
The circular font is an excellent one dating from the 13th century, while the painted pulpit is made of wood.
There is also an outstanding high-backed Mayor's chair from the 18th century.
The churchyard, unsuspected behind the church, is one of the hidden pleasures of Leicester, where one can sit quietly with just birds and butterflies for company.
In a table tomb in the churchyrd is buried Alderman Gabriel Newton, a publican who endowed a school in Leicester, and also in several other towns across the Midlands.
The tower is almost, but not quite, detached from the main body of the church, and was built at a slightly later date.
There was formerly a pair of striking Jacks on a clock outside All Saints. Unfortunately these were stolen in the 1970s. A replica can be seen in the courtyard of the Guildhall.
Marjorie Kempe from Kings Lynn was subjected to trial by the Mayor of Leicester at All Saints in the Middle Ages. She had been accused of Lollardry, effectively dissension from normal church practices. Marjorie was a mystic and author of the first autobiography in English, who had learned much from the extraordinary woman known as Julian of Norwich, the author of "Revelations of Divine Love".
All Saints is no longer in regular use as a church, although occasional services are still held. It is not generally open to the public, but visits can sometimes be arranged.
Where is All Saints Church?
View a map showing the location of All Saints Church.
Press the 'Back' button on your web browser to return here.