Great Meeting (Leicester)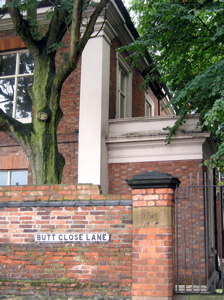 The Great Meeting is one of Leicester's very interesting religious buildings.
It is situated in East Bond Street, off St. Peter's Lane, which runs between Church Gate and Vaughan Way.
Leicester and the county have a very strong non-conformist tradition.
The Baptists were particularly strong in 19th century Leicester, and Thomas Cook, a Baptist himself, organised his very first excursion, from Leicester to Loughborough, to support a Temperance meeting. Robert Hall, the famous Baptist preacher came from Arnesby, a few miles to the South of the city.
George Fox, founder of the Society of Friends, better known as the Quakers, was born at Fenny Drayton near Hinckley.
Another group to have strong connections with Leicester are the Unitarians. The congregation started in the 17th century, and their delightful chapel, the Great Meeting, was built in the 18th century.
After the Municipal Reform Act of 1835, political power in Leicester passed from the Tories to the Liberals. Astonishingly, the first seven Mayors of the reformed corporation were worshippers at the Great Meeting, which earned it the popular nickname "The Mayors' Nest".
The Great Meeting still has a thriving congregation, and there is another Great Meeting at Hinckley.
Where is Great Meeting?
View a map showing the location of Great Meeting.
Press the 'Back' button on your web browser to return here.