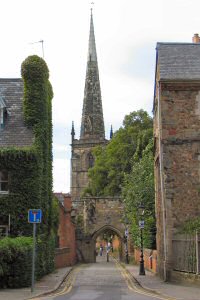 I recently led a private version of my popular "Historic Leicester" Guided Walk.
This was for the Leicestershire Wildlife Trust, and a follow up to a talk which I gave trust members about the long history of Leicester a few months ago. Natalie Cossa had asked me to give both the talk and the walk.
I showed the group some of the most historic sites in Leicester City Centre and Old Town, including the Guildhall, St. Nicholas Church, the Jewry Wall, St. Mary de Castro Church and the Turret Gateway.
Everybody agreed that Leicester is far more historic than it is generally given credit for.
If you would like your group to be shown these sites, do feel free to get in touch.
Posted by colin on Friday 25th September, 2009 at 8:00am