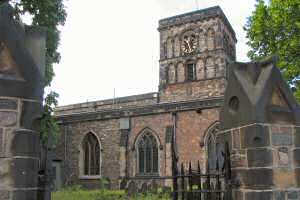 I recently led a group of ladies from Broughton Astley Womens Institute on their own private Guided Walk around Mediaeval Leicester.
They were visiting BBC Radio Leicester, and asked me to show them around historic aspects of the city beforehand.
The Old Town of Leicester is one of the oldest in the country, whose history dates back to the Roman period, when even then it was a regional capital.
I met the group at the Cathedral Fountain, and showed them an amazing number of historic buildings, together with an insight into their background.
These included St. Nicholas Church, St. Mary de Castro Church, Leicester Castle, the Turret Gateway and the Guildhall.
Everybody was fascinated, and amazed at the amount of history in this city, which is now one of the largest in the land.
Any group which would like me to lead a similar walk is most welcome to get in touch.
Posted by colin on Sunday 2nd May, 2010 at 9:14am