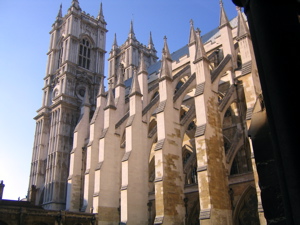 Richard II was the King of England in the last years of the 14th century.
He was born at Bordeaux in 1367, the second son of Edward the Black Prince and his wife Joan, the Fair Maid of Kent.
The Black Prince died in 1376, and as Richard`s brother Edward had died young, he succeeded as King at 10 when his grandfather Edward III died in 1377, being crowned at Westminster Abbey soon after.
There was no formal Regent appointed, but power gradually came into the hands of the King`s uncle John of Gaunt, the Earl of Leicester.
It was John of Gaunt who was largely responsible for the hated Poll Tax, which led to the uprising in 1381 known as the Peasants` Revolt. This started at Fobbing in Essex, when the wife of one of the villagers was sexually assaulted by one of the tax cellectors. It soon spread throughout the county, and gained its leader in Wat Tyler of Kent, from where many joined the revolt.
Marching on London, the rebels dragged Simon of Sudbury, the Archbishop of Canterbury, from the Tower of London and beheaded him. A similar fate befell Robert Hales, the treasurer.
Richard, still only 14, showed his bravery by facing the rebels at Smithfield. Tyler, having raised his hand to the King on several occasions, was killed by William Walworth, the Lord Mayor, but Richard promised the rebels that they would be pardoned and reforms were instituted.
This gained him much prestige amongst the nobility, who recognised his bravery, and also among the peasants, even though he betrayed them. John Ball, the Colchester radical priest, and others were hung, drawn and quartered and many were hunted down and killed in Norsey Wood near Billericay.
Richard was married in 1382 at St. Stephen`s Chapel in the Palace of Westminster to Anne of Bohemia, daughter of the Holy Roman Emperor Charles IV.
During the 1380s, Richard began to make similar mistakes as his grandfather Edward II, giving considerable power to his friends Robert de Vere, Earl of Oxford, and Michael de la Pole, later his Chancellor and Earl of Suffolk. Inevitably, this ld to a polarisation at court, with opposition led by Richard Fitzalan, Earl of Arundel.
In 1385, Richard decided to gain some glory by invading Scotland, but although he marched with a superior army through Northumberland and into the Scotish Lowlands, the Scots skilfully avoided fighting, so Richard had to return to England without a victory. Later, the Scots made several raids into Northumberland without reply.
Matters came to a head in 1386, when Richard made Robert de Vere the Duke of Ireland, with full Regency powers, and made Michael de la Pole the Chancellor, without even consulting Parliament.
John of Gaunt was out of the country, trying to secure his position as King of Castile, and in his absence a group of nobles acted to limit Richard`s power. The group was led by the King`s uncle, Thomas, Duke of Gloucester, and the others were the Earl of Arundel, Thomas Beauchamp, Earl of Warwick, Thomas Mowbray, Earl of Nottingham, and Henry Bolingbroke, who as John of Gaunt`s son was the cousin of the King. These five became known as the Lords Appellant. In the purge which followed, de Vere and de la Pole had their lands confiscated while others were executed.
Things were calmer for a few years after this, as Richard brought a settlement to the troubles in Ireland and concluded a peace with France.
But in 1394, Anne of Bohemia died of the plague, at 28, and was buried at Westminster Abbey. Richard, grief-stricken, had Sheen Palace, where she had died, razed to the ground. He did marry again in 1396, but this was a political marriage to seven-year-old Isabella, daughter of Charles VI of France. It is said that Richard treated her with kindness.
Richard now felt that he was secure in his personal power, and embarked on a round of revenge in 1397. He arrested Thomas of Gloucester at Pleshey and had him taken to Leigh, from where he was shipped to Calais and murdered. Arundel was tried, found guilty of treason and beheaded, while Warwick begged for mercy and was exiled to the Isle of Man.
Mowbray and Bolingbroke quarrelled and their dispute was going to be settled by personal combat, but the King stepped in and made his own decision. Mowbray was exiled for life and Bolingbroke for ten years.
Richard now ruled as a despot, but for those who were not in opposition to him matters must have been pleasant enough. He personally invented the handkerchief and during his reign a number of talented people came to the fore, including Geoffrey Chaucer, author of "The Canterbury Tales", the poet William Langland; religious reformer John Wycliffe; and the outstanding architect Henry Yevele.
The end of Richard`s reign was presaged by the death of John of Gaunt at Leicester in 1399. Instead of allowing Bolingbroke to return and take over his father`s lands, Richard extended his banishment for life.
While Richard went to Ireland to deal with unrest, Bolingbroke landed with an army at Ravenspur in Yorkshire, with the support of Henry Percy. Richard`s support dwindled and he surrendered to Bolingbroke at Conwy, from there being taken to the Tower of London.
The next in line for King, as Richard had no children, was Edmund Mortimer, Earl of March, but he was eight years old and nobody felt that it would be right for him to be King.
Consequently, when Richard was forced to abdicate, Bolingbroke suceeded him as Henry IV.
Richard was taken to Pontefract Castle, where he soon died, starved to death.
He was buried initially at Kings Langley and later buried in state at Westminster Abbey.
In many ways Richard was a capable and intelligent King, but like so many others, particularly his own family the Plantagenets, he paid the price for allowing power to corrupt him.
Posted by colin on Wednesday 7th January, 2009 at 9:13am