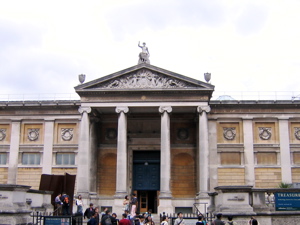 John was King of England for a period at the beginning of the 13th century.
He has had a very bad reputation across the centuries, so much so that he is normally characterised as "Bad King John", in contrast to his brother "Good King Richard".
In fact, the whole family, including the Kings, were a pretty unspeakable lot. Somehow, though, his brother Richard I, rarely in England, has been changed into a national hero.
John was born at the long demolished Beaumont Palace at Oxford, close to where the Ashmolean Museum now stands, in 1167.
He was the youngest son of Henry II and the redoubtable Eleanor of Aquitaine, who was 45 years old when he was born, and he soon became his father's favourite.
But all the available land had been given already to Henry's older sons, so John acquired the nickname "Lackland".
After Henry had conquered part of Ireland in 1175, he gave John the title King of Ireland, but the title was only honorary, and John alienated the Irish Kings by ridiculing them, while spending the money intended to pay the soldiers.
When the eldest of John's brothers, Henry the Young King, died in 1183, King Henry hoped that Richard, now the heir to the throne, would transfer Aquitaine to John. Richard, however, had no such intention and argument turned to war. Eventually, Henry died in 1189, heartbroken that even his favourite and youngest son had now turned against him.
Richard succeeded his father as King, and shortly afterwards John married Isabella, the daughter of William, Earl of Gloucester, at Marlborough Castle. The Archbishop of Canterbury declared the marriage void as they were second cousins, but John appealed against this. However, they did not really like each other and soon stopped living together.
John, although spoiled as a child, had received a good education and became especially skilled in administration and the law. He grew up into a dandy and womaniser.
His brothers knew they could not trust him, so when Richard, the new King, went off to the Crusades he gave some land in France to John and told him not to set foot in England.
But John did return to England in a bid to seize the throne, with the help of his half brother Geoffrey, Archbishop of York. He won over the citizens of London by giving them the right to elect their own Mayor, and Richard's Regent William Longchamp was obliged to flee to France disguised as a woman.
However, an amorous sailor discovered his identity, but John was so amused by the incident that he let Longchamp go. This was a bad move, because John was soon himself forced back to France.
On Richard's brief return to England in 1194, he forgave John, who then fought alongside Richard in his wars in France, and was named by Richard as his heir.
When Richard died in 1199, John was invested as Duke of Normandy at Rouen and generally accepted as King in England. However, the Angevin territories in France that were also under English dominion chose Arthur of Brittany, the young son of Geoffrey, another of John's brothers, who had a better claim under the laws of primogeniture.
Shortly after John's coronation at Westminster Abbey, he divorced his wife Isabella of Gloucester and remarried. She went on to marry Geoffrey de Mandeville, Earl of Essex and later the powerful Hubert de Burgh, Earl of Kent.
John's new wife was the 12 year old Isabella of Angouleme, whom he married at Bordeaux Cathedral. But this young lady was already betrothed to Hugh de Lusignan, who thereupon complained to Philippe of France. War broke out over this in 1202, and in the confusion John captured Arthur and his sister.
Arthur was never seen again, but there were strong rumours, probably true, that John had murdered him. In any event, a strong contender for the throne of England had been eliminated.
After this, things began to go further wrong for John, with his French-based barons understandably loath to trust him, and he was forced to escape to England in 1203.
For some years, John's main focus was on raising taxes in order to pay for an army to reconquer his French lands. Although he is remembered as a harsh King, his harshness was largely directed against the barons. His relationship with ordinary people tended to be fair and just.
In 1207 John rejected the new Archbishop of Canterbury, Stephen Langton. The Pope placed England under an interdict and John himself was excommunicated.
But John simply reacted by confiscating the Church's money, and proceeded to wage war pretty effectively, roundly defeating Llewelyn the Great of Wales in 1211.
In 1212, a combination of circumstances caused a radical change of policy. There was a rumoured plot to assassinate him, and at the same time Philippe of France was planning an invasion and the Pope was threatening to have John deposed. His reaction was to make peace with the Pope, who thereupon supported John, even against Philippe.
Having hanged 28 Welsh hostages in retaliation for another uprising by Llewelyn, John invaded France from Portsmouth in 1213, routing the French fleet and winning a number of battles. But he was himself defeated at Bouvines, and forced to sign a peace treaty.This was seen as a defeat and civil war broke out in England, culminating in John being forced by the barons to sign Magna Carta at Runnymede in 1215.
But John repudiated the charter as having been signed under duress, and civil war started again. This time the barons invited Louis, son of Philippe, to be King of England.
The Scots then invaded England, and John marched to Berwick, putting the inhabitants to the sword.
Louis landed at Sandwich and advanced on London without being challenged.
In the meantime, John, who had lost most of his support, continued campaigning. It was at this point that he crossed the Wash from Kings Lynn on his way to Lincoln, but misjudged the tides and famously lost his baggage train, crown and treasure.
He died at Newark Castle at the height of a violent storm in 1216, of dysentery, brought on by copious amounts of peaches and cider, but there were persistent rumours that he had been poisoned.
He was buried in Worcester Cathedral, except for his heart, which was laid to rest at the now demolished Croxton Abbey in Leicestershire.
John was succeeded by his son, nine years old at the time, as Henry III. His widow Isabella married the son of her earlier lover Hugh de Lusignan, and lived for another thirty years.
John and Isabella of Angouleme had several children.
Henry, born at Winchester Castle in 1207, succeeded his father as Henry III.
Richard, born at Winchester Castle in 1209, was elected King of Germany and King of the Romans. He died at Berkhamsted Castle in 1272 and was buried at Hailes Abbey.
Joan was born in Normandy in 1210, and married Alexander II of Scotland. She died at Havering-atte-Bower in 1238 and was buried at Tarrant Crawford Abbey.
Isabella was born in 1214. She married Frederick II, King of Sicily and Emperor of Germany, and died in 1241 near Naples, being buried at Andria in Sicily.
Eleanor was born in 1215, and married William Marshal, Earl of Pembroke. Despite a vow of perpetual chastity made after her widowhood, she married at the Palace of Westminster Simon de Montfort, Earl of Leicester, who led the Barons' Revolt and briefly ruled England. After de Montfort's death at the Battle of Evesham she became a nun at Montargis Abbey in France, where she died and was buried.
John also had a number of illegitimate children.
By Suzanne, sister of William de Warenne, Earl of Surrey: Richard FitzJohn of Dover.
By Clementina, wife of Henry Pinel: Joan, who married Llewellyn ap Iorwerth, Prince of Wales.
By Hawise: Oliver.
By unknown mothers:Osbert Clifford; Geoffrey FitzRoy; John FitzJohn, a clerk at Lincoln; Odo FitzRoy; Ivo; Henry; Richard, Constable of Wallingford Castle; Matilda, Abbess of Barking; and Isabella la Blanche.
Unpleasant though John undoubtedly was, he has not been treated in a kindly way by popular history. He did care to some extent about ordinary people, and cared far more for England than either his father or his brother had.
Posted by colin on Monday 3rd March, 2008 at 4:17pm