Ashmolean Museum (Oxford)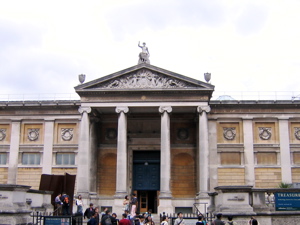 The Ashmolean Museum is one of the finest in England, and is situated in the historic city of Oxford.
The museum's collections started with the Tradescants (John Tradescant the Elder and his son John Tradescant the Younger), who were pioneering gardeners in the 17th century.
Between them the Tradescants introduced many plant species to England, including lilac, acacia and apricot. During their travels, they collected all manner of oddities, which they grouped together under the title "Closet of Rarities".
Elias Ashmole, a lawyer and antiquarian, helped to catalogue the collection, and inherited it after the younger Tradescant died.
The museum was opened in Broad Street in 1683 by James, Duke of York, later James II, and moved to the present premises in Beaumont Street in 1898.
The Ashmolean is amazing. There are collections of Egyptian, Greek and Roman antiquities; Western European paintings and sculpture; Eastern and Islamic art; coins, medals, tapestries and furniture.
Artists represented here include Bellini; Botticelli; Durer; Grinling Gibbons; Giorgione; Holbein; Leonardo; Michelangelo; Palmer; Raphael; Rembrandt; Turner; van Dyck; and Wilson.
And perhaps the greatest treasure is the Alfred Jewel, with the Latin inscription meaning "Alfred caused me to be made", which was found in the marshes near Athelney in Somerset.