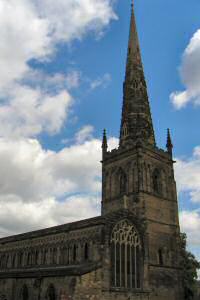 Henry VI was King of England for a considerable part of the 15th century.
Decent, kind, pious and courteous, but weak willed, incompetent and suffering bouts of mental illness, he was probably the least suited to be king of all England`s monarchs. He had the misfortune to become king as a baby on the death of his father, to be involved in the disastrous Wars of the Roses, to be deposed not once but twice, and finally to be murdered while at prayer.
Henry was born at Windsor Castle in 1421, the son of the charismatic Henry V and his wife Catherine de Valois.
He became King of England on the death of his father in 1422, when he was nine months old. Six weeks later, his grandfather, the French King Charles VI, died, and he was also declared King of France.
Since Henry was a very little boy, the countries were ruled by regents. In England it was his uncle Humphrey, Duke of Gloucester, while France was governed by John, Duke of Bedford, another uncle. However, Charles VI`s nineteen year old son was declared Charles VII in France, leading to skirmishes in which neither Bedford nor Charles had the military skill to bring the matter to a conclusion.
When Henry was five years old, in 1426, he was formally knighted at St. Mary de Castro Church in Leicester.
Meanwhile, the 17 year old Joan of Arc galvanised the French into action and raised the Siege of Orleans in 1429, leading to the coronation of Charles, hitherto known as the Dauphin.
Realising that things were going badly, the Regents decided that Henry should be crowned without further delay. Accordingly, he was crowned King of England at Westminster Abbey in 1429, but it was not until 1431 that he crowned King of France at Notre Dame de Paris. He is the only king to have been formally crowned in both countries.
The earthly career of Joan of Arc came to an end in 1431. Captured by the Burgundians, she was sold to the English and burned at Rouen. Later canonised, she remains a potent figure in legend, drama and song.
But gradually, England`s influence in France ebbed away, until in 1453 only Calais remained in English hands.
Henry declared himself to be of age in 1437, just before his sixteenth birthday. It made little difference, as he had little interest in exercising authority, and power remained in the hands of advisers, the most important of whom was William de la Pole, Earl of Suffolk.
It was de la Pole who conducted the negotiations which led to Henry`s marriage to Margaret of Anjou at Titchfield Abbey in 1444. Part of the treaty, kept secret at the time, involved giving up Maine. When this was made public, public uproar was such that Henry no longer felt personally safe in London.
Duke Humphrey, the most important of Henry`s earliest advisers since Bedford died in 1435, was arrested in a political coup orchestrated by de la Pole and murdered at Bury St. Edmunds in 1447.
In 1449, de la Pole, now widely unpopular, sought to raise his stock by invading Britanny but this was unsuccessful. Henry had him banished, but his ship was intercepted at Dover, where he was executed.
1450 saw the rebellion led by Jack Cade as a protest against the mismanagement of England, during which London was attacked, with Cade symbolically touching London Stone with his sword. At this period the king and queen took refuge at Kenilworth. Cade`s death probably saved Henry from more embarrassment.
Henry`s reaction to this was to appoint as his new adviser Edmund Beaufort, Duke of Somerset. This led to more conflict, when Richard, Duke of York, Henry`s second cousin, returned from Ireland, whither he had been banished because of his support for Duke Humphrey. He was a sworn enemy of Somerset, and their rivalry was one of the main triggers for what became the Wars of the Roses.
Henry first started showing signs of his mental illness in 1453, at times sitting alone for weeks without showing any signs of reason or emotion. At this time, Henry`s only son, Edward, was born, at the Palace of Westminster in 1453. When he recovered some eighteen months later, Henry had no idea how he came to have a son, and concluded that it must have been the work of the Holy Ghost.
Richard of York was appointed Protector of the Realm in 1454, and one of his first acts was to have Somerset arrested and imprisoned in the Tower of London. But on Henry`s recovery, Somerset was released and York dismissed.
There was then an escalation of hostilities, culminating in the first Battle of St. Albans in 1455, a brief skirmish in which Somerset was killed. Henry was captured, but treated with respect. Shortly afterwards, with Henry incapacitated again, York was reinstated as protector but dismissed, in accordance with the wishes of Queen Margaret, in 1456.
By 1458, civil war was inevitable. The Lancastrian side, led nominally by Henry but in reality by the queen, included Henry Beaufort, the new Duke of Somerset, and Henry Percy, Earl of Northumberland. The Yorkist side, led by Richard of York, had among its members Richard Neville, Earl of Salisbury, and his son, another Richard Neville, Earl of Warwick.
At Ludlow in 1459, the Lancastrians routed the Yorkists. Richard of York sought refuge in Wales and then in Ireland, while many of his supporters fled to Calais. Regrouping, they defeated the Lancastrians at Northampton in 1460, following which Richard returned and had his claim to the crown acknowledged by Parliament, being recognised as heir in place of Henry`s son Edward.
While Henry agreed to this, Queen Margaret did not. Raising an army in the North, she won a battle at Wakefield, after which Richard of York was executed and the Earl of Salisbury captured and murdered.
Margaret marched on London, defeating the Earl of Warwick at the second Battle of St. Albans at the beginning of 1461, but Warwick, together with Richard of York`s son Edward, raised another army which won the Battle of Mortimer`s Cross and successfully marched into London, with Edward declaring himself king as Edward IV.
Henry and Margaret retreated North, chased by the Yorkists, who triumphed at Towton in Yorkshire on Palm Sunday, in a snowstorm, said to have been the bloodiest battle ever fought on English soil.
Henry and his queen sought refuge with James III of Scotland, to whom Berwick was ceded, but a battle at Carlisle failed to improve Henry`s situation and Edward was crowned soon after. The Earl of Warwick`s reputation as "Warwick the Kingmaker" began at this point.
But Henry did not remain welcome in Scotland for long, and was smuggled back to Lancashire, where he lived in hiding until captured in 1465 and imprisoned in the Tower of London.
But in 1470, Warwick changed his allegiance to Henry, who was released from the Tower and reinstated as king, being crowned again at St. Pauls Cathedral. Warwick followed this up by marrying his daughter Anne to Henry`s son Edward.
Henry`s second reign did not last long. Edward IV defeated and killed Warwick at Barnet in 1471, and Henry was again captured and imprisoned.
Margaret was defeated at Tewkesbury, and her son Edward was killed in the battle. She too was imprisoned in the Tower.
On the night that Margaret arrived at the Tower, Henry was stabbed in back while at prayer. The identity of his murderer is not known, but in Tudor times it was believed to have been Richard of Gloucester, later to become king as Richard III. This should, however, be taken with a pinch of salt, as every possible means of blackening his name was taken and he was held responsible for just about every murder committed in those troubled times.
Henry was first buried at Chertsey Abbey, and later moved to St. Georges Chapel at Windsor. There have been, over the intervening centuries, attempts to have him canonised.
Margaret remained in prison, first at the Tower, then at Windsor, then at Wallingford, before being released to go back to her father`s estate at Angers in 1475. She died and was buried there in 1482.
Henry is remembered in much more positive ways because of his foundation of Eton College in 1439 and King`s College Cambridge in 1441, while Margaret founded Queen`s College Cambridge in 1448.
Posted by colin on Thursday 14th May, 2009 at 8:26am