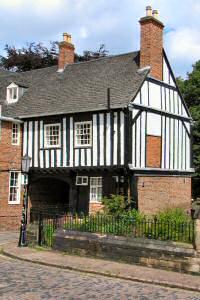 I am frequently asked to lead private Guided Walks for groups.
If your group have thought about this, but are not sure what's on offer, let me say that I can lead any of the walks listed on this website under "Upcoming Events".
A few weeks ago, I gave a list of the Top Ten most requested talks, and here is a similar list of the walks that I am most freqently asked for.
1. Haunted Leicester. The lonely streets of Leicester's half forgotten Old Town, where many ghosts are said to lurk.
2. Historic Leicester. An astonishing walk through two thousand years of history, in one of England's oldest towns.
3. Welford Road Cemetery. Leicester's magnificent Victorian necropolis, opened in 1841, and the fascinating people who are buried there.
4. Melton Mowbray. Delightful market town, famous for hunting, its cathedral-like parish church, and above all for hand raised pork pies and Stilton cheese.
5. Loughborough. Historic market town, industrial town and university town, destination for Thomas Cook's first excursion, and whose bells ring out across the world.
6. Market Harborough. Excellent market town, whose story involves the Civil War, coaching inns, Thomas Cook and the infamous Liberty Bodice.
7. Market Bosworth. Fascinating little market town which gave its name to the crucial Battle of Bosworth, where Richard III lost his crown and his life and the Tudor dynasty came to power.
8. Old Belgrave. Former village, now a suburb of Leicester, with two 18th century mansions, an ancient church and an ancient bridge.
9. Old Evington. Another former village which is now a Leicester suburb, with a mediaeval parish church and moated manorial site.
10. Rochford. Delightful Essex market town with unique mediaeval street system, the home of Anne Boleyn and the town where I was born.
Posted by colin on Saturday 14th April, 2007 at 9:45am