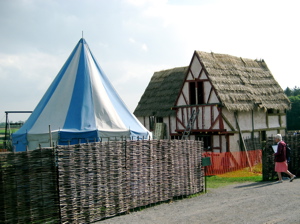 I recently had the pleasure of guiding a coach party from the Halesowen district of the West Midlands on a tour of West Leicestershire.
I was asked to organise this trip by my good friend Mark Smith, of Quest Travel, who runs a year-round programme of excursions to all over the country.
Earlier this year, I had taken a group from Quest on a tour around East Leicestershire, stopping at Melton Mowbray, Hallaton and Market Harborough.
It must have gone down well, as I was straight away asked to do another!
This time, I met the coach at a church hall at Burbage, where several of the group had friends, and after a nice cup of tea we were off.
Along the way, the goup were treated to lots of the lovely countryside which makes this such a great county for short tours.
First of all, we made a brief stop at Bosworth Battlefield, scene of the battle in 1485 which changed the course of English history, when the tragic and much maligned Richard III was killed and the Tudor dynasty came to power.
Then it was on to Market Bosworth, the delightful little market town which is justifiably proud of its flower displays, which win awards every year.
Next it was an unscheduled surprise, as we made the steep climb up to the amazing parish church at Breedon-on-the-Hill. Set on an Iron Age site on the edge of a cliff, with fabulous views over the Trent Valley and Charnwood Forest, St. Mary and St. Hardulph has a superb collection of Anglo-Saxon carvings, which I was able to show and explain to the group.
And then I took them to Ashby-de-la-Zouch, another busy market town where Ashby-de-la-Zouch Castle was used by Sir Walter Scott as the setting for scenes in his novel "Ivanhoe".
I said goodbye at Hinckley, and made my way back home to Leicester from there.
Mark has asked me to devise and lead another two tours for him next year. In May it's "Oliver Cromwell Country Tour", visiting Huntingdon and Ely. Then in July it's "Northamptonshire Wanderer", taking in Wicksteed Park and Oundle, Rockingham Forest and some surprises.
I'm looking forward to both these!
Posted by colin on Saturday 9th December, 2006 at 6:10pm