Ashby-de-la-Zouch Castle (Ashby-de-la-Zouch)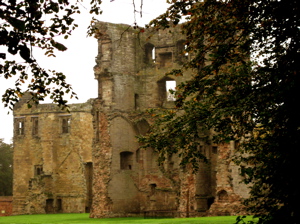 The castle at Ashby-de-la-Zouch is now a very impressive ruin.
The site originated as a 12th century manor house, which was gradually enlarged. The major work was carried out by Lord Hastings, who was suspected of being behind a plot against Richard III and beheaded in 1483.
The castle at Kirby Muxloe, apparently a ruin, was also being constructed by Hastings and never finished.
During the Civil War, in 1646, Ashby Castle was besieged by the Parliamentarians, and on its surrender was slighted – rendered useless for defence.
Sir Walter Scott featured the castle in his famous novel "Ivanhoe". It is here that the tournament is set, where Robin Hood in disguise wins an archery contest. Scott had been staying with Sir George Beaumont at Coleorton Hall. One day he walked to Ashby, and was most impressed with the castle ruins.
Today, the ruins are extensive, and include the enormous Tower House, effectively a keep, and a chapel, in addition to several smaller towers. A popular feature, particularly with chidren, is the underground tunnel between different parts of the site.
Ashby Castle is now in the care of English Heritage.