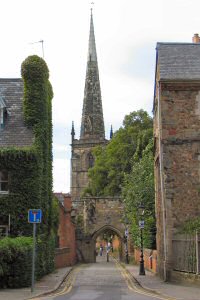 I was invited to the former mining village of Bagworth recently to give a talk to the Bagworth Historical Society, at Bagworth Working Men's Club.
The talk that they requested was one of the most popular that I regularly deliver, "Leicester's Place in English History".
During this talk, I seek to show that throughout the history of our country, there has been a Leicester connection at all the pivotal periods.
Leicester is in fact one of the oldest towns in the country. Colchester is the oldest, but Leicester is up there in the Top Ten.
Leicester was an important Roman town, being both a regional capital and in the early days a frontier town on the Fosse Way, that runs from Lincoln through the Cotswolds to Exeter.
During the Danish occupation, Leicester was one of the Five Boroughs of the Danelaw, and there are still linguistic elements in the area, especially place and street names, that come from this largely forgotten period.
The early Norman Earls of Leicester were very powerful indeed. One of them, Simon de Montfort, was effectively King of England until defeated and killed at the Battle of Evesham.
John of Gaunt lived at Leicester Castle, and in his time Goffrey Chaucer was married at St. Mary de Castro Church and John Wycliffe, first English translater of the Bible, was Rector of Lutterworth.
Henry VI was knighted at St. Mary de Castro, and not long afterwards the tragic and much maligned Richard III was brought back to Leicester to be buried, having lost his crown and his life at Market Bosworth.
In the 16th century, Cardinal Wolsey died and was buried at Leicester Abbey, and the nine day Queen, Lady Jane Grey, came from Bradgate House.
Leicester was successfully besieged by Charles I and Price Rupert during the Civil War, the aftermath of which was the Battle of Naseby.
In 1841, after Leicester had grown enormously due to the Industrial Revolution, Thomas Cook organised his first excursion, from Leicester to Loughborough, ushering in the modern age of tourism.
Everybody in the audience listened intently, and went away with a new understanding of the pivotal role played by Leicester and Leicestershire in the history of England.
Posted by colin on Friday 16th March, 2007 at 12:48pm