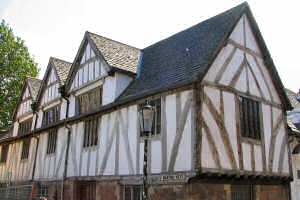 A group from the Hinckley area enjoyed a scary evening recently when I led them on a Ghost Walk around Old Leicester.
Hinckley and Burbage Friendship Club had asked me to take them on a private version of my very popular "Haunted Leicester" walk.
So I led them around the eerie streets of Leicester's half forgotten Old Town, where many ghosts are said to lurk.
They walked past Leicester Cathedral and Guildhall, John of Gaunts Cottage and the Turret Gateway, lingering in the shadows to hear stories of hauntings, and visiting the atmospheric churchyard of St. Mary de Castro Church.
The group also learned of the activities of the terrifying Black Annis.
If your group would like me to organise something similar, feel free to get in touch.
Posted by colin on Tuesday 22nd January, 2008 at 7:29pm