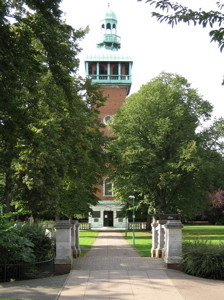 A recent talk that I gave was for the Adult Education Centre in Leicester, as part of a course, under the title "Places of Interest in Leicestershire".
The course is run from time to time for people who are coming up to retirement age, and deals with subjects such as health, insurance, pensions and the like.
My part of the course is to point out how it is possible to visit lots of interesting places without travelling very far and without breaking the bank.
I talk about the many museums in the area - not just the obvious ones in the city, such as the New Walk Museum and the Jewry Wall Museum, but others dotted around the county at, for example, Loughborough, Market Harborough and Melton Mowbray.
Then there are the parks - splendid ones in Leicester, such as Abbey Park and Victoria Park, but others around the county, including the beautiful Queens Park at Loughborough.
I speak of the two steam railway lines, Bradgate House just a few miles from the city in Bradgate Park, the Bosworth Battlefield Visitor Centre and so on.
Those on the course are always particularly interested in the concessions for over-60s on public transport.
If you are yourself approaching retirement, why not ask your employers to book you a place on the course next time.
Posted by colin on Monday 5th February, 2007 at 9:06am