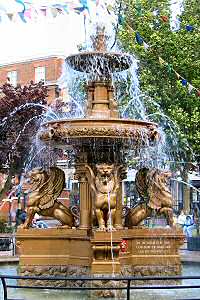 In 2004 and 2005, there was an excellent Festival in Leicester over the August Bank Holiday weekend. It was known as Expo.
I thought it was so good in the first year that in the second year, as my contribution, I organised a season of free Guided Walks in the City Centre as part of the festival.
Unfortunately, after those two years Expo was scrapped, but I decided to continue with my free walks, to keep the idea of the festival alive.
This year, as last, I led ten different Guided Walks, all from the Town Hall and all free.
On the Thursday, it was "Historic Leicester" at 11am and "Richard III" at 5pm.
On the Friday, I led "Walking the Walls" at 11am and "Black Annis and Friends" at 5pm.
Then on the Saturday, the walks were "A Handful of Architects" at 11am and "Faith in Leicester" at 5pm.
On the Sunday, it was "Street Names of Leicester" at 11am and "The Grim Reaper" at 5pm.
And finally on the Monday, I led "Hidden Leicester" at 11am and "A Closer Look at Leicester" at 5pm.
I hope that all the people who came on these free walks came away with a better insight into some of Leicester's long history.
I may well be doing this again in 2008.
Posted by colin on Tuesday 20th November, 2007 at 1:53pm