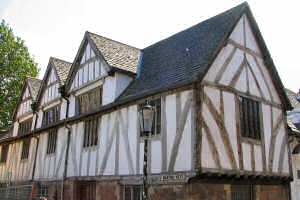 If you have always fancied going on some of the famous Guided Walks around Leicester, but were not quite sure whether they are really your sort of thing, you have an opportunity to sample some free over the Bank Holiday weekend.
Once again, I am leading the Free Expo Walks this August.
From Thursday 21st August until Monday 25th August inclusive, there are two different walks each day, at 11am and 5pm. That`s a total of ten different walks, covering lots of aspects of Leicester`s long history.
Each of the walks starts outside the Town Hall.
Here is the programme.
Thur 21 Aug Historic Leicester 11am
Thur 21 Aug A Handful of Architects 5pm
Fri 22 AugLooking Up In Leicester 11am
Fri 22 Aug Black Annis and Friends 5pm
Sat 23 Aug Faith in Leicester 11am
Sat 23 Aug Richard III 5pm
Sun 24 Aug Walking the Walls 11am
Sun 24 Aug The Grim Reaper 5pm
Mon 25 Aug Street Names of Leicester 11am
Mon 25 Aug A Closer Look at Leicester 5pm
I hope to see lots of you over the weekend.
Posted by colin on Wednesday 6th August, 2008 at 8:59am