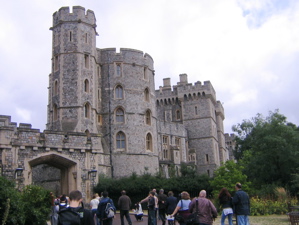 A most enjoyable Coach Trip recently was the "Thames Valley Tour".
This was one of the wide range of excursions that I devise and lead throughout the year from Leicester. In each case I give a commentary, so that one is not left wondering about places of interest along the way.
Having left St. Margarets Bus Station in the morning, we made leisurely progress down the old Fosse Way to Gaydon. I always make a morning stop for coffee at somewhere interesting in its own right, and on this occasion it was the Heritage Motor Centre. Everybody felt it was a great choice.
We reached the River Thames at Lechlade, where we made the first proper stop. This is the highest point to which the Thames is navigable. Most people visited the mediaeval St. Lawrences Church, where a particular point of interest is the extraordinary little statue of St. Agatha.
Having driven through the outskirts of both Oxford and Reading, our next stop was Marlow, a busy little town where most visited All Saints Church. Marlow is where Mary Shelley wrote "Frankenstein".
Then the last of the three stops was the splendid Royal town of Windsor, Everybody of course marvelled at the magnificent Windsor Castle, which is still one of the residences of Her Majesty the Queen.
On the way back, we stopped at Newport Pagnell Services on the M1, and then it was back to Leicester.
Forthcoming trips, if you live near Leicester and haven't been on one yet, include Oxford, Ripon, Mysterious Wiltshire Tour and Rufford Abbey.
Posted by colin on Wednesday 29th November, 2006 at 10:49am