Thames Valley Tour (A Coach Trip in River Thames)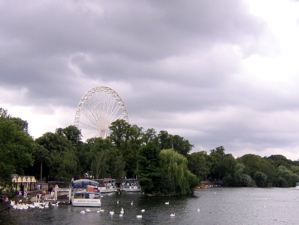 The "Thames Valley Tour" is one of the many Coach Trips devised and led by Colin Crosby, of Colin Crosby Heritage Tours, the well-known Leicester-based Blue Badge Guide.
These trips are an ideal way of soaking up some Local History.
The coach departs from St. Margarets Bus Station in Leicester at 8am, and arrives back about 9.30pm.
This is a tour along the River Thames, one of the most famous rivers in the world, which flows through or past many famous, historic and picturesque towns.
There are three stops of about an hour each.
The first stop is at Lechlade in Gloucestershire. Lechlade is the furthest point upstream to which boats can be navigated, and has a famous statue of Neptune.
The next stop is at Marlow in Buckinghamshire. There is a splendid suspension bridge here, and it was at Marlow that Mary Shelley wrote "Frankenstein".
The last stop is at Windsor in Berkshire. Windsor is famous for the magnificent Windsor Castle, which is still used by the Queen as one of her residences, but there is plenty more of interest in this handsome market town.
Dates, costs and where to meet
A place on 'Thames Valley Tour' costs £20.00 per person, or £20.00 if paying in advance. The coach trip begins at St. Margarets Bus Station, and is running on:
I'm sorry, but there are no plans to run this event at present.
If you would like to book a place on one of these dates, please telephone Colin on (0116) 2611576 or email him at colin@crosbyheritage.co.uk.