All Saints Church (Marlow)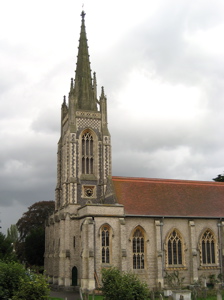 All Saints is the parish church of the riverside town of Marlow, in Buckinghamshire on the River Thames.
On the site of an earlier church, All Saints was rebuilt between 1832 and 1835, after the designs had been exhibited at the Royal Academy.
It makes a very effective entrance to the little town, with its Perpendicular tower and its spire being the first impession one gets when crossing over the bridge.
The pulpit was designed by G. E. Street in 1863.
There are a number of monuments from the earlier church, the oldest being dated 1597.
But perhaps the most interesting monument is to Sir Miles Hobart, who was killed in 1632 when his coach overturned on the dangerous hillside off Holborn in London. This was many years before Holborn Viaduct was constructed, taking traffic across the valley of the River Fleet.