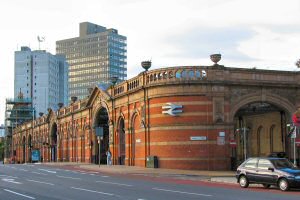 I went to another meeting of the Community History Network in Leicester recently.
The Network is open to anybody in the Leicester area who has an interest in some aspect of Local History. There is no charge for joining or for attending the meetings, which are held in the Reference Library in Bishop Street.
At each meeting, there is a talk, which can cover a variety of historical themes.
This time, it was by Brian Johnson, and was entitled "Making Tracks", being the story of the 19th century development of railways in Leicestershire.
Brian told of the Leicester to Swannington Railway, one of the first railways ever constructed anywhere. Its purpose was to bring coal from the West Leicestershire coalfield, a task which had previously been undertaken by pack horse train.
He went on to speak about the other railways that eventually (for a while) criss crossed around the county.
The Midland Railway came down through Loughborough to Leicester, as it still does, but originally followed a different course from the line which now runs to St. Pancras Station in London.
The Charwood Forest Line came from Coalville by way of Shepshed to Loughborough, and there was another line running from Belgrave Road, the present site of Sainsburys, out into the country, taking countless holidaymakers to Skegness.
The Syston and Peterborough Railway is now part of the much used line running from Birmingham via Hinckley to Leicester, and then on to Stamford, Ely and eventually Stansted Airport.
There were lots of other lines, including the one that is partially open again near Market Bosworth as the Battlefield Line, and a line running to Nottingham from Melton Mowbray.
But one of the best known was surely the magificent Great Central, the last main line railway to be constructed in Britain, in the 1890s, and sahmefully the first to be closed, under the Marples Axe in the 1960s. It is of course now partially reopened between Leicester North Station and Loughborough.
What a smashing talk this was!
I will be delivering the December talk, a seasonal one entitled "The Holly and the Ivy".
Posted by colin on Friday 8th May, 2009 at 7:52am