Syston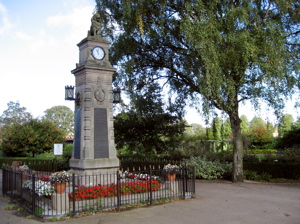 Syston is a small town to the North of Leicester.
It lies on the Fosse Way, the famous Roman road which ran from Lincoln via Leicester and the Cotswolds to Exeter, and also on an ancient ridgeway overlooking the Wreake Valley.
The main road, Melton Road, contains a good number of "High Street" shops, but the old High Street around the corner, and the streets leading off it, known only really to Syston people, contain a surprising number of thatched and timber-framed cottages, as well as the oldest domestic brick building in Leicestershire.
Syston is famous for Pukka Pies and for the late lamented Sweater Shop, which had its headquarters in the town. Other Syston products include shoes and formerly Tizer.
The mediaeval church of St. Peter and St. Paul has some curious figures high up on the tower.
Watermead Park has been created as a country park around the River Soar and canal. There are several lakes, including King Lear's Lake, with a statue of characters from Shakespeare's tragedy. Lear was said by Geoffrey of Monmouth to have founded Leicester.
Watermead Park links Syston with Thurmaston, Birstall and Belgrave.
Syston can be reached by bus from Leicester and Melton Mowbray, and by train from Leicester and Loughborough.
Blue Badge Guide Colin Crosby is available to lead Guided Walks around Syston for groups.