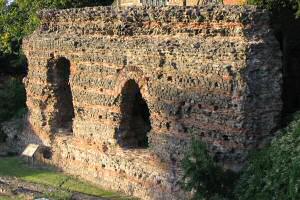 I led a Guided Walk recently around the fascinating city of Leicester for a party of schoolchildren.
The children were from the Pochin School at the village of Barkby, and I treated them to their own version of my popular "Historic Leicester" walk.
This is, as I often describe it, an astonishing stroll through two thousand years of history in one of England`s oldest towns.
Among the ancient buildings that I showed them were Leicester Cathedral, Guildhall, St. Nicholas Church, the Jewry Wall, St. Mary de Castro Church and the Turret Gateway.
It`s always a particular pleasure to give children an idea of their local heritage.
If any other group would like me to take them on this walk, or indeed any other, do feel free to get in touch.
Posted by colin on Sunday 20th February, 2011 at 10:34am