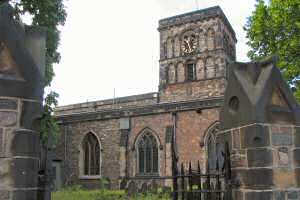 Places of worship in Leicester were the subject of a private Guided Walk which I led recently.
It was a version of my "Faith in Leicester" walk, which looks at existing places of worship (mostly, but not entirely, Christian) in the City Centre and Old Town, along with the sites of others long demolished.
I was asked to lead this walk for members of Friar Lane Baptist Church, whose original site was in the centre of Leicester but who had moved out some years ago to Braunstone.
Among the churches we viewed were Leicester`s collection of five mediaeval churches in the Old Town - Leicester Cathedral (St. Martin`s Church, raised to cathedral status in 1926}; St. Mary de Castro Church; St. Nicholas Church; All Saints Church; and St. Margarets Church.
Others included the Jain Centre and the Great Meeting, and the sites of the Grey Friars and the Newarke Church.
The group thoroughly enjoyed the evening, and were surprised at the amount of history in this ancient town.
Any group wishing to have a similar walk is invited to get in touch with me, by email or on 0116 - 2611576.
Posted by colin on Monday 4th August, 2008 at 8:40am