Midland Bank (HSBC) (Leicester)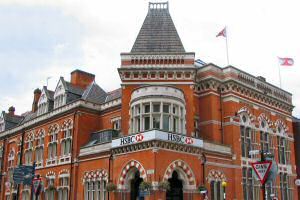 The HSBC Bank, still usually known as the Midland Bank, is on the corner of Granby Street and Bishop Street in Leicester City Centre, close to Town Hall Square.
It was built originally as the Leicestershire Bank by one of Leicester's most prominent architects, Joseph Goddard, in 1874.
Goddard came from a family of architects, and his other buildings in the city include the Clock Tower and the Thomas Cook Building.
This Bank is an extraordinary building, being created in what is known as the Venetian-Gothic style, with French pavilion roofs. It makes a sizeable contribution to Leicester's reputation for superb Victorian architecture.
One of the endearing, but little noticed, features of the building comes from Samuel Barfield, the stonemason who often worked with Goddard. Look for his monsters which crawl about the walls.
Where is Midland Bank (HSBC)?
View a map showing the location of Midland Bank (HSBC).
Press the 'Back' button on your web browser to return here.