Clock Tower (Leicester)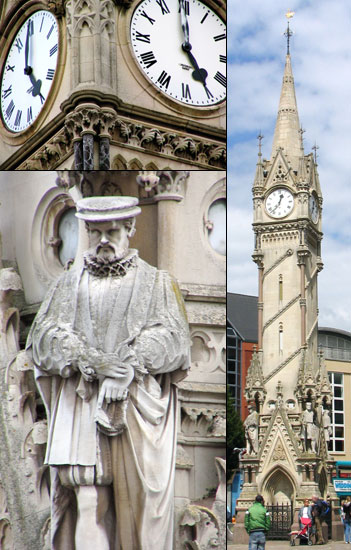 The Clock Tower is one of Leicester's best-known landmarks.
Ask any Leicester person where the centre of the city is, and you will be told "The Clock Tower".
But although it is true that this marks the centre of the city today, it is strangely enough outside the original town.
Leicester was a walled Roman and mediaeval town, with four gates, and the Clock Tower lies just outside the site of the East Gate.
The Clock Tower was built in 1868, at a point where several roads - Gallowtree Gate, Cheapside, Silver Street, High Street, Church Gate, and Belgrave Gate - converged. There were at this time no traffic lights and no roundabouts, so the congestion from the horse-drawn traffic must have been enormous, and crossing any of the streets would have been a very hazardous undertaking.
John Burton, a local photographer, came up with the idea of a monument, to stand on what we would now call a traffic island. The money was raised by public subscription.
The Clock Tower was designed by Joseph Goddard, a well-known local architect who was also responsible for the Midland Bank (HSBC) in Granby Street.
Goddard asked his friend Samuel Barfield, a well-respected sculptor, to create statues of four local benefactors, and these now stand on each side of the tower.
The four men depicted are Simon de Montfort, the Earl of Leicester who was effectively the king for a while having imprisoned Henry III, and who is credited with a big step towards Parliamentary democracy; William Wyggeston, a rich merchant and Mayor of both Leicester and Calais, who endowed a school and almshouses; Gabriel Newton, the founder of number of schools in Leicester and elsewhere; and Thomas White, who set up a charity which still advances money to young people with a good business idea.