Guildhall (Windsor)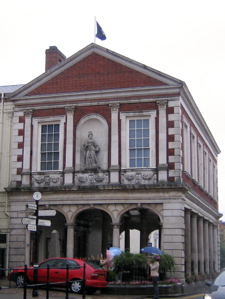 The Guildhall is one of the most significant buildings in the Royal Borough of Windsor.
It stands in the market area of the old town, which grew up in the shadow of the mighty Windsor Castle.
The old town, around the old Market Place, is quite small, and takes up an area roughly a quarter of the size of the castle.
The Guildhall was built by Sir Christopher Wren in 1687, while he was living in Windsor. It was Wren who rebuilt much of the City of London after the Great Fire.
The front of the building is open, with the pavement going through. An unusual, but little noticed, feature is that the pillars do not touch the upper floor. This is because Wren wished to prove that he knew more about the mechanics of building construction than his employers did. He knew that the pillars were unnecessary.
The wedding of Prince Charles and Camilla Parker Bowles took place at the Guildhall.
For most of its life, the Guildhall has been used as a Town Hall.