Central Park (Syston)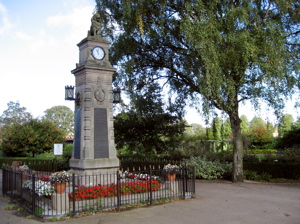 Central Park is a very nice open space in the centre of the small Leicestershire town of Syston.
Two of the entrances are on Melton Road, the main route between Leicester and Melton Mowbray, where most of the town's shops are located.
In the park is a fine Clock Tower, which formerly stood where Melton Road joins the High Street. The story of its being moved is a familiar one - motorists objected to having to take care when going round it.
There is also a peace garden, which gives a quiet feeling of wellbeing.