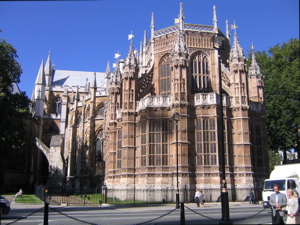 Henry VII was the King of England who founded the Tudor dunasty.
Henry Tudor was born at Pembroke Castle in 1457, the son of Edmund Tudor, Earl of Richmond and the 13-year-old Margaret Beaufort. Through the Beauforts he was descended from John of Gaunt and through his father`s side the Celtic Princes of Wales.
His father died before Henry was born, and his mother remarried. From birth he was the Earl of Richmond. Through most of his childhood he was raised by his uncle Jasper Tudor, but in 1461 his grandfather Owen Tudor was beheaded in Hereford Market Place, and Jasper and Henry had to flee. They returned to court, however, with the restoration of Henry VI in 1470. Matters were certainly improving for Henry Tudor, and the king even recognised him as a possible heir. But when Edward IV recovered the crown in 1471, Jasper and Henry again fled to Britanny, and although Edward tried very hard to locate them, he did not succeed.
Henry had only a tenuous claim to the crown, with several people having better claims. Nevertheless, in 1483, while Richard III was on the throne, he decided to attempt to win the crown, supposedly as the Lancastrian heir. But his rebellion ended in disaster, with his ally the Duke of Buckingham being captured and executed in Salisbury Market Place and Henry himself suffering the indignity of his small fleet being battered by storms and spending just one day ashore.
Undeterred, he landed at Milford Haven in 1485 and marched across country, spending the night at Shrewsbury, and defeated and killed Richard in battle near Market Bosworth. This gave him the indisputable right to rule by conquest.
Within months there was a rebellion led by Lord Lovel and the Stafford brothers, but this was put down with relative ease.
Early in 1486, at Westminster Abbey, Henry married Elizabeth, the daughter of Edward IV, which was said to have united the warring houses of Lancaster and York. Later that year, his eldest son Arthur was born. Henry wanted to demonstrate that he was bringing back a Golden Age. After all the next king was to be King Arthur.
The first of the well known claimants to the crown appeared about this time. Lambert Simnel, born in 1475, was the son of an Oxford joiner. Raised by a local priest, he came under the wing of John de la Pole, the Earl of Lincoln, the son of Elizabeth, sister to Edward IV and Richard III. Lincoln had been nominated by Richard as heir, and still had ambitions in that direction.
Lincoln put forward Simnel`s claim to the crown, declaring that he was Richard, one of the Princes in the Tower, but then changing his mind and claiming that he was Edward of Warwick, another with a good claim. But Henry had imprisoned Warwick in the Tower of London, and brought him out of prison to show that he was still alive.
Simnel was taken to Ireland, where there many Yorkist supporters, and crowned as Edward VI at Dublin Cathedral in 1487. He then crossed over to England as figurehead for Lincoln`s rebellion, but was defeated at the Battle of Stoke Field, near Newark. Lincoln was killed, but Henry allowed Simnel, still a boy, to work in the Royal kitchen, and he rose eventually to become the king`s falconer, dying in 1524 aged 50.
Another claimant emerged in 1494. Perkin Warbeck was the son of a French administrator named John de Werbecque, and had been born in 1474 at Tournai. He travelled to Ireland and gained the support of the Yorkists, claiming first to be Edward, Earl of Warwick, secondly an illegitimate son of Richard III and finally Richard Duke of York, the younger of the Princes in the Tower. He invaded England at St. Ives (Cornwall) in 1497, and was immediately proclaimed king. He unsuccessfully besieged both Exeter and Taunton, and when he fled was soon captured at Beaulieu by Henry. He was imprisoned in the Tower, and hatched a conspiracy with the real Earl of Warwick, leading to them both being executed for treason in 1499. Warbeck was hanged at Tyburn while Warwick was beheaded.
Henry was anxious to forge an alliance with Ferdinand and Isabella, the rulers of much of Spain. His son Arthur was duly married to their daughter Catherine of Aragon in 1501, and set up court at Ludlow Castle.
This was the beginning of the great age of discovery. Ferdinand and Isabella had financed the Genoese Christopher Columbus` voyages to the Americas, and Henry himself financed John Cabot, who in 1497 set sail from Bristol and discovered Newfoundland.
Another claimant to the crown appeared in 1501. This time it was Edward, Duke of Suffolk, the nephew of Edward IV and Richard III, but he gathered little support and was imprisoned in the tower in 1506.
Henry`s last years were melancholy. Arthur died from consumption in 1502, aged only 15, and a few months later Henry`s wife also died, following the birth of their eighth child, who also did not survive. Sheen Palace was badly damaged by fire in 1497, and he rebuilt it as Richmond Palace, retiring there while he had increasing bouts of both asthma and gout.
He died at Richmond Palace in 1502, and was buried at Westminster Abbey. His second son succeeded as Henry VIII, his eldest son Arthur having already died, although the news of his father`s death was kept from the new king for two days.
While Henry VII was personally anything but charismatic, being coldly efficient, and while his claim to the crown was tenuous, it was in his reign and that of the later Tudors that England became an important modern power.
The writings of Polydore Vergil started the literary tradition of assassinating the character of Richard III. The coins issued in Henry`s reign were the first to show something like a true likeness.
Henry VII and Elizabeth of York had eight children.
Arthur was born in 1486 at St. Swithun`s Priory, Winchester, and created Prince of Wales in 1489. He married Catherine of Aragon at St. Pauls Cathedral in 1501, having been married by proxy at Bewdley in 1499. He died at Ludlow Castle in 1502 and was buried at Worcester Cathedral.
Margaret was born in 1489 at the Palace of Westminster.She married James IV of Scotland at Holyrood Abbey, Edinburgh in 1503, and after his death married Archibald Douglas, Earl of Angus. She died of palsy at Methven Castle in 1541 and was buried at St. John`s Abbey, Perth.
Henry was born at Greenwich Palace in 1491, and succeeded his father as Henry VIII.
Elizabeth was born in 1492, and died at Eltham Palace in 1495. She was buried at Westminster Abbey.
Mary was born at Richmond Palace in 1496. She married Louis XII, King of France, at Abbeville Cathedral in 1514, and after his death married her first love Charles Brandon, Duke of Suffolk at Greenwich Palace in 1515. She died at Westhorpe Hall and was buried at Bury St. Edmunds Abbey, later being removed to St. Marys Church in the same town.
Edmund was born in 1499 at Greenwich Palace. He died in 1500 at the Old Palace, Hatfield, and was buried at Westminster Abbey.
Edward died young, and was buried at Westminster Abbey.
Katherine was born in 1503 in the Tower of London, and died there a few days later. She was buried at Westminster Abbey.
Henry also had an illegitimate child by an unknown Breton lady.
Roland de Velville was created Constable of Beaumaris Castle.
Posted by colin on Saturday 12th December, 2009 at 6:22pm