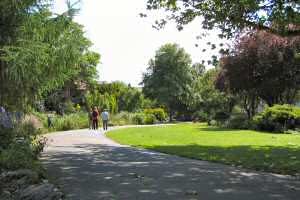 For a few weeks in the Summer, Saga Holidays organise week long breaks in Leicester.
These holidays are based at the award winning Halls of Residence at Leicester University.
And each time, I have the pleasure of talking to the group about the delights of Leicestershire and Rutland. It 's not difficult to be enthusiastic.
As well as talking about the lovely countryside and the super market towns, such as Loughborough, Market Harborough, Melton Mowbray and Oakham, I also say a few words about some of the famous people in history who have been associated with the area.
There's Robert Bakewell, agricultural pioneer; Thomas Cook, the father of modern tourism; George Fox, founder of the Society of Friends (Quakers); Lady Jane Grey, Queen for nine days; Daniel Lambert, 52 stone when he died; Joseph Merrick, better known as the Elephant Man; Titus Oates, inventor of the Popish Plot; Richard III, buried at the Grey Friars; and George Villiers, better known as the notorious Duke of Buckingham.
I always try to find out where visitors have travelled from. On the sixth and final holiday this year, I was able to talk to people from Birmingham; Hastings; and Westcliff (the part of Southend where I lived with my parents until I was 21).
Posted by colin on Wednesday 21st November, 2007 at 3:03pm