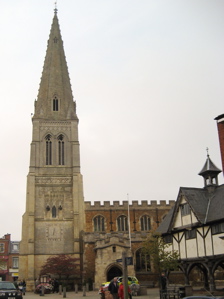 I led one of my popular morning Coach Trips recently. This time it was the "Northamptonshire Borders Tour".
These trips are particularly popular with people who would rather not be out all day. They start at St. Margarets Bus Station in Leicester at 9.30am, and return at about 2pm.
On this trip, we travelled Southwards from Leicester, passing through the lovely old town of Market Harborough, and made a brief stop by the Rushton Triangular Lodge, where a number of cameras were used!
We then continued past Wicksteed Park and Boughton Hall, making another short stop to see the Eleanor Cross at Geddington.
We always have a stop somewhere nice, where one can buy coffee, cakes etc. This time it was the Coffee Tavern in the delightful old stone town of Oundle.
After that, it was the return journey, of course. We made a brief stop at Fotheringhay, before going underneath the spectacular Harringworth Viaduct, and then back home to Leicester.
My Visitors` Book received its usual crop of appreciative comments, among which were ""very informative and scenic as always", "lovely interesting outing once again", "ideal for pensioners who can`t walk" and "super tour, lots of interesting villages and superb countryside".
The next morning trip is the "Richard III Tour" in June. Before then, trips to further afield include "Norwich", "Maldon and the Dengie Hundred" and "Warwick and Coventry".
Posted by colin on Monday 23rd March, 2009 at 8:55am