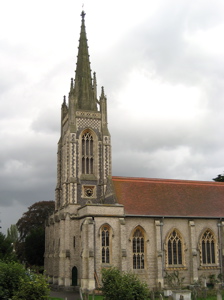 I went on a very pleasant Coach Trip organised by Woods Coaches of Leicester recently. This time it was "In Search of the Midsomer Murders", looking at places where filming for the popular TV series has taken place.
I still like going on trips as a passenger, even though I run my own extensive programme of excursions.
After leaving St. Margarets Bus Station, we made our way Southwards, stopping at Northampton (formerly Rothersthorpe) Services, where I was able to get a good breakfast.
Then the tour began, as we made our way through a succession of Buckinghamshire villages.
We had a short stop at Brill, high on a hill overlooking the Chilterns and even the Cotswolds, and then at the very picturesque Cuddington.
For lunchtime, we made our way to Marlow. I walked over the splendid Suspension Bridge that crosses the River Thames to Bisham, and back in Marlow revisited All Saints Church, showing the man in charge an interesting memorial on the wall! I had an open air coffee in the park.
Then we had another pleasant ride to Amersham, where I found a pleasant tea shop. Very important, these.
And then after a brief stop at Rothersthorpe again, it was back to Leicester.
It was a good and well thought out trip.
Posted by colin on Saturday 22nd May, 2010 at 7:48am