Suspension Bridge (Marlow)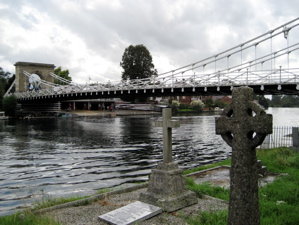 The Suspension Bridge at Marlow in Buckinghamshire is a particularly beautiful one.
It crosses the River Thames around midway between Henley-on-Thames and Windsor.
The bridge was constructed between 1831 and 1836, and is the work of William Tierney Clark, who also designed the famous bridge between Buda and Pest in Hungary.
On the North side of the bridge is All Saints Church, and on the South side the Two Brewers, where Jerome K. Jerome wrote most of "Three Men in a Boat".