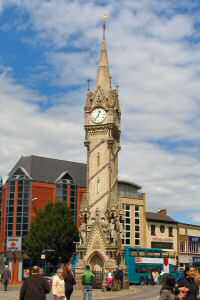 A book that will be of great interest to anybody interested in the history of Leicester is "Images of Leicester".
Now available in paperback, it is published by the Leicester Mercury, and is a collection of pictures of this ancient city. They are mostly photographs, but there are also some drawings dating back a couple of centuries.
Some of the buildings featured which alas are no longer to be seen are the Three Crowns; the chapel of Welford Road Cemetery; Huntingdon Tower; and Victoria Park Pavilion.
And there are early photos of such landmarks as the Clock Tower; Leicester Market; Abbey Park; and the Magazine Gateway.
All in all, it`s a smashing book, which enhances one`s knowledge of how Leicester has developed.
Posted by colin on Tuesday 26th August, 2008 at 6:29am