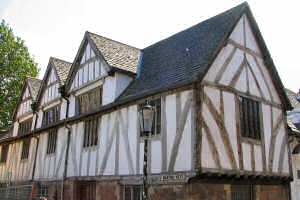 It's always a pleasure to lead a Guided Walk around Leicester for visitors from other parts of the country, or even from abroad.
But it was even more of a pleasure during the Summer to lead a walk for the English Historic Towns Forum.
Members were visiting Leicester for a conference, and I was asked to give them an overview of the city.
So of course I showed them historic buildings such as Leicester Cathedral, the Guildhall, Leicester Castle and St. Mary de Castro Church.
But I also spoke about the enormous amount of regeneration that is going on at the moment, such as the doubling in size of The Shires shopping centre, the construction of the Performing Arts Centre designed by Rafael Vinoly, and the desirable housing that is going up beside the River Soar and the canal.
Other organisations please note, and come to Leicester for your conferences!
Posted by colin on Thursday 25th October, 2007 at 4:20pm