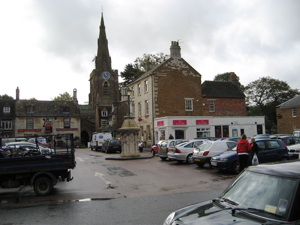 A group from the Halesowen area, near Birmingham, had a trip around Northamptonshire during the Summer.
I was delighted to be the guide on the coach for these people, with whom I have travelled a number of times before. This time, the trip was entitled "Northamptonshire Wanderer".
It was one of the excursions organised by my friend Mark Smith of Quest in Halesowen. He has a full programme of trips to destinations all over the country, not dissimilar to my own programme, and he has been kind enough to ask me to sort out a route and provide commentary on a number of occasions.
The last time, for example, I showed his group Huntingdon, St. Ives (Cambridgeshire) and Ely.
This time, I met the coach at St. Margarets Bus Station in Leicester, and we began by travelling Southwards into Northants, making a brief stop at Rushton to view the extraordinary Rushton Triangular Lodge.
We then went on to Wicksteed Park where everybody was able to fill up with coffee and have a stroll around this jolly park. Mark and I had a ride on the little train which chugs around the grounds and lake.
Moving on through Rockingham Forest, we passed the magnificent Boughton Hall before making a brief stop at Geddington, to see one of the three surviving Eleanor Crosses, set up by Edward I in 1290 in memory of his Queen.
Next, we stopped at the outstanding stone town of Oundle, where most of the group had a meal or at least a snack. I plumped for the the very welcoming Coffee Tavern in the Market Place, and paid a brief visit to St. Peters Church.
Yet another brief stop was at Fotheringhay, where the great mound is all that survives of the castle, where Richard III was born and Mary Queen of Scots was executed. Most of the group visited the magnificent St. Mary and All Saints Church.
Then on the way back to Leicester, we made a stop at Uppingham, with time to have another cup of coffee. Most of the group chose the teashop at the Rutland Antiques Centre.
My Visitors' Book has such comments as "good tour and interesting places" and "nice to be taken back in history at Fotheringhay church".
I'm glad to say that I will be doing three trips for Mark in 2008. I shall look forward to them.
Posted by colin on Wednesday 31st October, 2007 at 9:14am