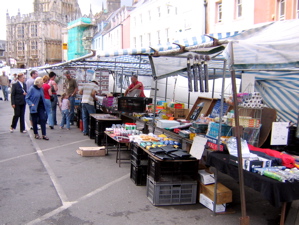 I had a day out recently on another Coach Trip run by Woods Coaches of Leicester.
People often say it sounds like a busman`s holiday, and I suppose that`s what it is. But I enjoy going on other people`s trips - I can relax, without any responsibility - and I know that Woods are a good company. I hire coaches from them for my own excursions.
The trip this time was to that lovely part of England known as the Cotswolds.
I boarded the coach as usual at St. Margarets Bus Station. But a little later almost all the passengers had an unscheduled wait of nearly half an hour. This was caused by a couple from Nottingham who had booked on the trip, but had misjudged the time needed to get there, as well as not checking on directions.
The company naturally did not want to disappoint people who had travelled a fair distance, so we waited, and eventually they turned up.
Once we were properly on the way, we took a route through Stratford-upon-Avon and stopped at Evesham Country Park, where I partook of a coffee at the Apple Barn Restaurant.
Then it was on through Broadway and Stow-on-the-Wold, before arriving at the splendidly historic town of Cirencester over the lunch period.
I popped into the magnificent St. John the Baptist Church, and found that it is in the throes of a major refurbishment and archaeological investigation. Apparently lots of old coffins have been discovered beneath the floor.
While in Cirencester, I had some really good chips from the Friar Tuck fish and chip shop.
From Cirencester, it was a short distance, by way of Fairford, to the pretty riverside town of Lechlade.
Here we were booked to have a cream tea, while cruising along the River Thames.
But it was a little windy (although those of us who come from by the sea would hardly have noticed it), and the boat company decided that it was much too dangerous to take the boat out on these upper reaches of the river.
So we had our cream tea (which was very nice when it arrived) on the boat in the boatyard.
In order to salvage something from the day, we had an extra visit, to the tourist honeypot of Bourton-on-the-Water, where the rain started to come down in earnest, and we returned to Leicester by way of Moreton-in-Marsh.
None of the problems were the fault of the coach company, or of its driver.
And anyway, I still had an enjoyable day, of course!
Posted by colin on Thursday 4th September, 2008 at 12:30pm