Richard III Statue (Leicester)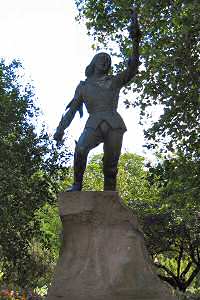 The Richard III Statue is an important landmark in Leicester.
The sculptor was James Butler.
It commemorates Richard III, who spent his last night in a bed in Leicester, was killed in battle a few miles away near Richard III, and was brought back to Leicester for burial.
His remains were sensationally discovered at the Greyfriars in 2012.
Having been for some years in Castle Gardens, the statue is now sited outside Leicester Cathedral.