Prelude to Richard III (A Guided Walk in Leicester)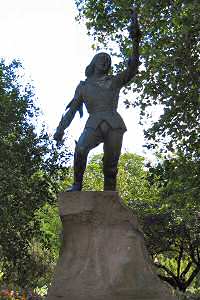 "Prelude to Richard III" is one of the Guided Walks in Leicester devised and led by Blue Badge Guide Colin Crosby, of Colin Crosby Heritage Tours.
These walks are an excellent way of picking up some Local History.
Richard III spent his last night in a bed in Leicester, was killed a few miles away near Market Bosworth, and brought back for burial to Leicester.
As the world now knows, his remains were sensationally discovered at the Greyfriars in 2012.
On this walk, Colin relates the historical events which led up to Richard of Gloucester taking the crown as Richard III.
Dates, costs and where to meet
A place on 'Prelude to Richard III' costs £6.00 per person, or £5.00 if paying in advance. The guided walk begins at Richard III Statue, and is running on:
I'm sorry, but there are no plans to run this event at present.
If you would like to book a place on one of these dates, please telephone Colin on (0116) 2611576 or email him at colin@crosbyheritage.co.uk.